James E. Lewis
Attorney at Law
With over two decades of experience practicing law, attorney Jim made the move to open his own private firm in 2007. Since that time, Jim has focused his work on helping individuals, families, and businesses in the greater Green Bay, Wisconsin area deal with their financial debts, make secure plans for the future, and develop successful strategies to start or grow their companies. A strong and compassionate advocate for those who feel like they are in hopeless situations, Jim works hard to make his clients' lives better and build a brighter future for them and their families.
READ MORE
Bobbi Jo Welty
Paralegal
Bobbi Jo has worked as Jim Lewis' paralegal for several years. She earned a Bachelor of Arts degree in both Criminal Justice and Political Science from the University of Wisconsin-Oshkosh. In addition to having long-standing relationships with local attorneys and judicial professionals, Bobbi Jo is very familiar with the Howard-Suamico area. She grew up in Howard, attended Bay Port High School and has long-standing personal and professional relationships with business owners in this area. Bobbi Jo works with the attorneys to assist clients in various areas with a concentration in bankruptcy and probate law.
Amy J. Lux
Paralegal
Amy has worked for many years at our Pulaski location, and she also serves as the firm's bookkeeper. Amy works with the attorneys to assist clients in the areas of family law, probate administration, collections, real estate, and business law. She earned a Bachelor of Science degree from the University of Wisconsin-Green Bay subsequent to graduating from Green Bay East High School. Amy and her husband, John, live in Suamico and her two adult sons are graduates of Bay Port High School.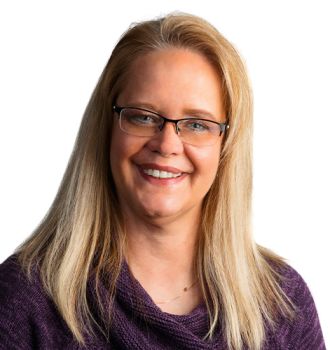 Audrey Shirley
Paralegal
Audrey brings over 25 years of paralegal experience to Lewis & Van Sickle, LLC. She earned an Associates Degree as a Paralegal from Northeast Wisconsin Technical College. Audrey is an estate planning and trust paralegal and aids clients in the preparation of their estate plan, including drafting trusts, wills, financial and health care powers of attorney and funding their trust along with assisting clients in several other areas of law. She works hand-in-hand with the clients to ensure their wants and needs are met from the beginning to the end of their planning. Audrey lives in Howard with her husband and three dogs.
Adreana Flor
Bilingual Paralegal
Adreana Flor is a bilingual paralegal. She received her Associates Degree in Paralegal Studies from ITT-Technical College and has been a paralegal for more than eleven years.
Adreana assists Jim Lewis with Chapter 7 bankruptcies, Chapter 128 repayment plans and other financial distress matters. Adreana like to help people reorganize their financial lives to obtain a fresh start. Adreana also translates for our Spanish speaking clients and assists with business and real estate matters.